One in ten can't afford first house deposit
Millions of people wanting to get onto the property ladder are being forced to turn to their grandparents for financial help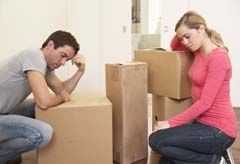 (Image credit: REX)
Millions of people wanting to get onto the property ladder are being forced to turn to their grandparents for financial help
Growing numbers of young people are struggling get a foothold on the property ladder - and many are turning to their parents and grandparents for financial support, according to new figures.
A study based on 1,000 interviews found that more and more adults being forced to live at home, because they can't afford a house deposit, and many fear they'll still be living with their parents into their 40s and 50s.
Research from homebuilders Taylor Wimpey suggests millions of young people will have to spend far longer in rented accomodation. For some, they say, home ownership is now an unrealistic assumption.
Many adults under 34 say they can not get onto the property ladder because they are unable to raise a deposit, are fearful about their ability to qualify for a mortgage and are worried about their job security, according to the research.
The Bank of England announced this week that property sales are falling due to concerns about the economic outlook.
The number of young people managing to buy without financial help has fallen dramatically according to the Council of Mortgage Lenders. In 2005, 69 per cent of first time buyers bought property without help compared to just 35 per cent today.
Celebrity news, beauty, fashion advice, and fascinating features, delivered straight to your inbox!