More women in UK boardrooms than ever before
There number of women in British boardrooms is at its highest level ever according to new research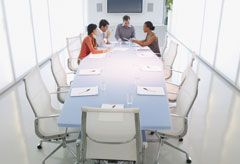 (Image credit: Rex)
There number of women in British boardrooms is at its highest level ever according to new research
There number of women in British boardrooms is at its highest level ever according to new research.
The Professional Boards Forum says that there has been 'steady progress' in the past year towards the government target of 25 per cent female British board directors by 2015
Last year, Lord Davies set out guidelines for 'radical change' in British boardrooms to ensure talented and gifted women make it to the top jobs in business.
LORD DAVIES CALLS FOR RADICAL CHANGE TO GET MORE WOMEN IN THE BOARDROOM
In his government commissioned report, Davies ordered big businesses to take stock and make changes after it was discovered that women only held 12.5 per cent of board positions in leading companies in the FTSE 100.
Nealry 12 months on, it seems as though the hard work might be paying off. The Professional Boards Forum's monthly BoardWatch report has now revealed that almost 15 per cent of the directors at the UK's 100 biggest public companies are women.
What's more, the boards of 15 big companies are now 25 per cent female and almost 100 women were appointed to the boards of FTSE 100 and FTSE 250 firms in the last year alone.
We may have a long way to go before we're equally represented, but it seems that change may finally be coming to the boardrooms of Britain.
Celebrity news, beauty, fashion advice, and fascinating features, delivered straight to your inbox!