Trudie Styler blasted by eco critics
Styler branded a hypocrite after using private jet.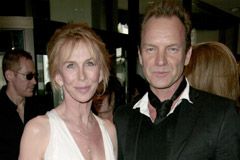 (Image credit: Rex Features)
Styler branded a hypocrite after using private jet.
Trudie Styler has been accused of hypocrisy after she hired a private jet to fly her and a group of stylists from New York to a party in Washington D.C.
Her entourage of eight, which included her New York hairstylist Antonio Prieto, accompanied her on the gas-guzzling journey to help her prepare for the White House Correspondents' Dinner.
Critics are outraged at her decision to fly the short distance between the two cities, particularly when she is such a vocal supporter for the environment. Insiders stress that she could have taken the shuttle or the energy-saving Amtrak train.
Trudie, wife of rocker Sting, co-founded the Rainforest Foundation 20 years ago to champion green issues and speak out about the horrors destroying the environment.
Despite being big proponents of saving the rainforests this is not the first time Styler and Sting have been criticised for their 'green-less' actions. It was reported last year that ageing rocker Sting only donated 41% of the proceeds for his 2006 Rainforest Foundation concert. The average is usually 75%.
The pair have also been blasted for having a carbon footprint estimated at 30 times that of the average UK resident.
FOR MORE STING PICTURES CLICK HERE
ARE YOU A TWITTERER? FOLLOW US HERE!
BECOME A MARIE CLAIRE FACEBOOK FAN HERE
Celebrity news, beauty, fashion advice, and fascinating features, delivered straight to your inbox!
Natalia is a health journalist with 14 years experience in the publishing industry. She has worked for a number of well known magazines and websites including Marie Claire, Woman&Home, Top Sante, Boots and The Telegraph. She likes to think she practices what she preaches when it comes to health and fitness. Her athletic prowess began early. A keen fencer for 13 years, she wielded an epée for Olympic Team GB during her teenage years. She likes to think she made sword-fighting cool before Game of Thrones came along! While working on her sporting performance with the team, she also participated in a lot of nutrition and psychology training, When it comes to time off, you'll most likely find her up a mountain somewhere. It seems holidays have become a time for climbing several thousand feet, rather than chilling out. She's now hiked eight of the major mountain ranges across four continents – including the Appalachians, the Smokies, the Sierra Nevadas (she spent her honeymoon hiking to the top of Half Dome), as well as hitting the summits of Snowdon, Pen-Y-Fan (Brecon Beacons), Table Mountain in South Africa, the Blue Mountains in Australia and the Atlas Mountains in Morocco. She's also passionate about all things health, particularly vaccinations, and will happily jump on her soap box at any given opportunity to talk about their benefits to anyone who will listen!