'Nursing is all about mentoring'
Matron Caroline Cassels on pursuing a career in nursing and why women supporting women is what it's all about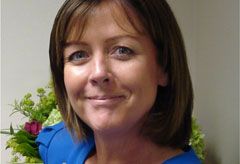 (Image credit: Caroline Cassels)
Matron Caroline Cassels on pursuing a career in nursing and why women supporting women is what it's all about
Matron Caroline Cassels on pursuing a career in nursing and why women supporting women is what it's all about.
It wasn't a career she intended on, but Caroline has been a matron at King Edward VII's Hospital for the last 17 years, managing a work force of 135.
Caroline started her professional life as a staff nurse 27 years ago, after her mother encouraged her to move to London and pursue a career in healthcare. At first Caroline found it very competitive, 'You had to achieve certain grades and the interview process was rigorous.' She even came close to leaving it all behind in her third year, but was encouraged by a ward sister to stay on.
'It's not uncommon for student nurses to feel like giving up in their 3rd year. But my ward sister was amazing. She could see how I was feeling and through one to one sessions and wonderful encouragement, she gave me back my passion for nursing. It was really important to have her there as a mentor.'
'Training was very hands on,' says Caroline. ' You learn as you go and you are always putting your knowledge into practice. I remember the first time I had to do an injection I almost passed out!' She tries to retain that very hands on approach even now as matron by making sure she is in constant contact with patients.
'Every day tends to be different. You meet new people and you come across different problems and situations. You have to be personable and willing to talk a lot,' says Caroline. 'You're meeting strangers every day of the week, many who aren't very well, so you need to be empathetic.'
The work can be stressful - and emotional - at times. 'But if I ever felt too detached, I would stop. There are several time that I have cried over a patient and I don't think that's a bad thing. It's rewarding seeing people get better; it's what nursing is all about.'
Now, she's keen to pass on her passion. 'I take mentoring very seriously and gain huge satisfaction through watching staff grow. It is vital to spend good quality one to one time, give advice, encouragement and criticism if it is needed.'
And her tips for the top? 'Be prepared to keep your head down and keep an open mind about everything. It's important to keep focused, achieve good grades and also get as much work experience as possible.
Celebrity news, beauty, fashion advice, and fascinating features, delivered straight to your inbox!
Natalia is a health journalist with 14 years experience in the publishing industry. She has worked for a number of well known magazines and websites including Marie Claire, Woman&Home, Top Sante, Boots and The Telegraph. She likes to think she practices what she preaches when it comes to health and fitness. Her athletic prowess began early. A keen fencer for 13 years, she wielded an epée for Olympic Team GB during her teenage years. She likes to think she made sword-fighting cool before Game of Thrones came along! While working on her sporting performance with the team, she also participated in a lot of nutrition and psychology training, When it comes to time off, you'll most likely find her up a mountain somewhere. It seems holidays have become a time for climbing several thousand feet, rather than chilling out. She's now hiked eight of the major mountain ranges across four continents – including the Appalachians, the Smokies, the Sierra Nevadas (she spent her honeymoon hiking to the top of Half Dome), as well as hitting the summits of Snowdon, Pen-Y-Fan (Brecon Beacons), Table Mountain in South Africa, the Blue Mountains in Australia and the Atlas Mountains in Morocco. She's also passionate about all things health, particularly vaccinations, and will happily jump on her soap box at any given opportunity to talk about their benefits to anyone who will listen!