We've found the doctor-led clinic which could change your skin
In partnership with Ouronyx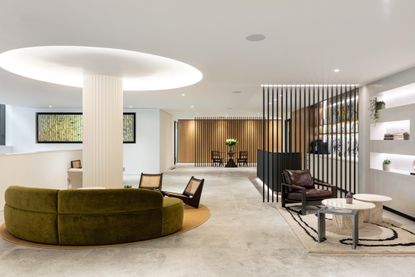 (Image credit: Ouronyx)
Chances are, you're already pretty well versed on all the various non-invasive treatments out there – but do you understand which are best for what specific part of your face, and how to bring your face into harmony?
Without knowing those things, it's hard to make a properly informed decision, which is where Ouronyx differs from other aesthetic clinics.
Thanks to their diagnostic approach which focuses solely on the face and on treating with injectables, and encompasses physiological, psychological, aesthetic, and well-being markers, each individual is treated bespokely – and is empowered to make the best decisions for future health.
Founded by Ida Banek, a professor of psychology and behavioural science, and Marc Princen, a former executive at Botox-maker Allergan, the aim is to unite spirit, preference, personality, and injectables.
They also focus on the hormonal impact, particularly in the case of its effect on women's lives, which is savvy given that those hormones can be behind plenty of changes to the face, including premature ageing. The menopause, in particular, results in plenty of changes on a physical level for women, when the speed at which the face ages triples.
The Ouronyx answer is to start with an in-depth consultation with their doctors, and to then combine their world-class medical expertise with technological innovation to achieve a rested, refreshed look that isn't overdone.
While each person is treated to an individual treatment plan, the Restoration and Recreation treatment is considered the gold standard for a healthy, rested look and works a treat on an areas showing volume loss, especially the chin and jawline, where the combination of dermal fillers and neuromodulators helps to define and lift.
And if you're wondering what the clinic is like: think calm, huge private members' club, where you can sit and have a peaceful cup of tea before or after your treatment, and where you can be checked on anything from a 3D facial scanning system to an ultrasound before your treatment, after which you'll be sent home with a comprehensive aftercare plan, so you can get the absolute best results from whatever you've opted for.
Consultations are complimentary. Please email london@ouronyx.com to book.
Ouronyx, 20 St James's Street, St James's, London SW1A 1ES
For more information, please visit ouronyx.com or call 020 4542 1697 @Ouronyx
Celebrity news, beauty, fashion advice, and fascinating features, delivered straight to your inbox!
Madeleine Spencer is a journalist and broadcaster who has contributed to titles including Grazia, Glamour, InStyle, The Independent, The Evening Standard, and Stylist, as well as offering commentary for the BBC, Sky News, and ITV.
She is keen on exploring the significance beauty rituals, products, and memories have on people from different walks of life, and enters into conversation on the topic with guests on her podcast, Beauty Full Lives.