Want to know exactly how extortionate house prices are in London? Take a look at this enlightening (if slightly depressing) London Tube Map.

Online estate agent eMoov.co.uk, produced the edited map, which gives the average house price at all 280 stops on the Tube network.

It reveals the London's housing market at a glance - showing us why it's no surprise loads of us are being priced-out of the capital (Scroll down for an interactive map of hot spots on the London commuter belt).

The map also makes a clear-cut case that a property close to a tube stop is super desireable. So invest, if you have at least half a million to play with *cue silent scream*.

We're now confident that all those lovely townhouses in Knightsbridge, 2 minutes from a central tube stop that we've fantasised about living in (you know the ones, they boast private gardens and those resident-only parking spaces we're often cursing) will forever be way, way out of our price range (because we are not a millionaire). We are destined never to dance merrily in those storied squares like an ensemble cast member from the musical Oliver!. Oh well.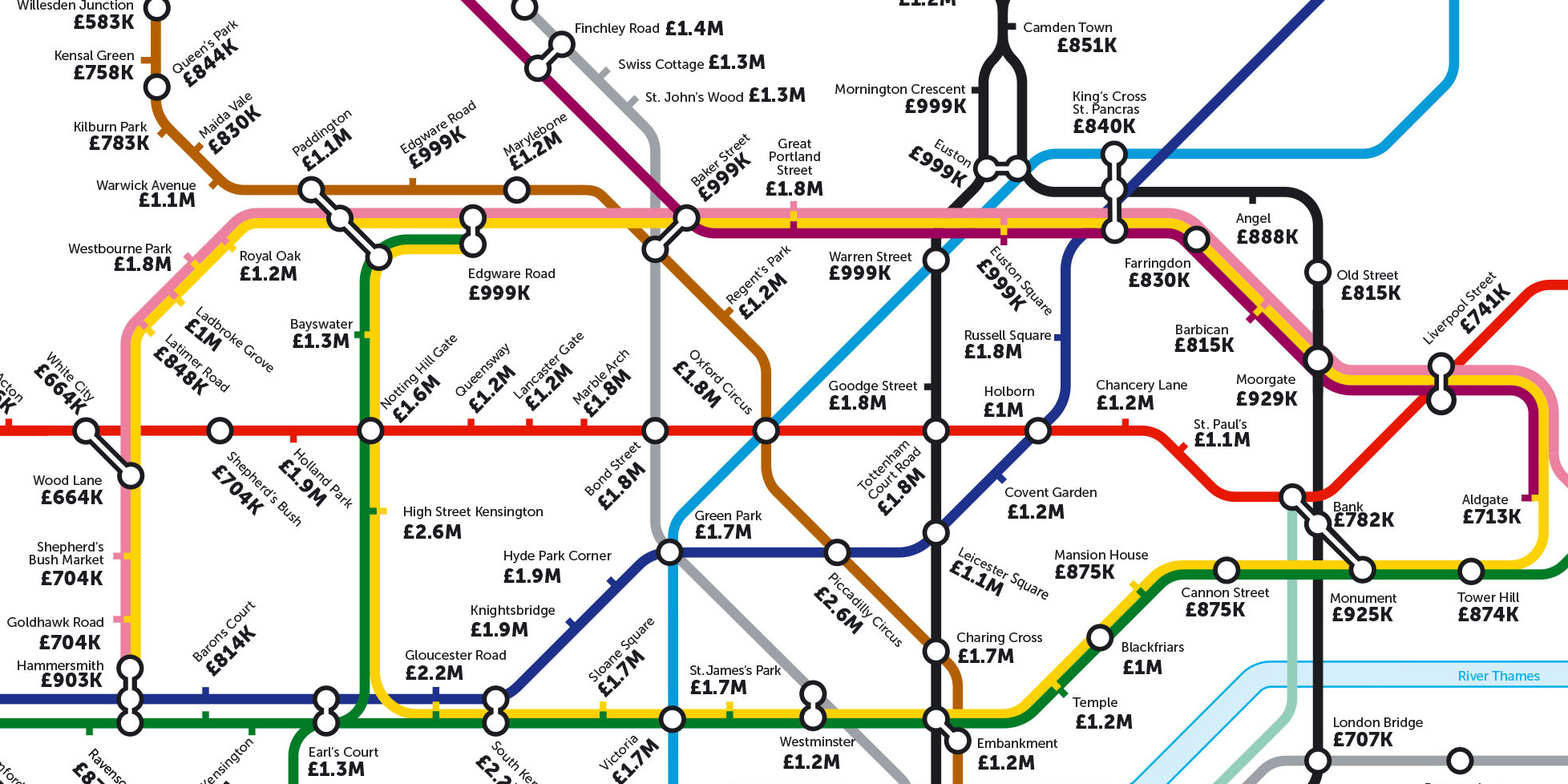 The 10 most expensive stops feature the usual suspects - High Street Kensington, Picadilly Circus, South Kensington and Gloucester Road.

The cheapest zone 1 properties are to be found in Aldgate East (£536K). Other zone 1 properties hovering around the £660,000 mark include Lambeth North, Borough and Waterloo.

At the more affordable end of the spectrum are Barking, Upney, Dagenham (Heathway and East) and Becontree - the average home there comes in under the £250,000 mark.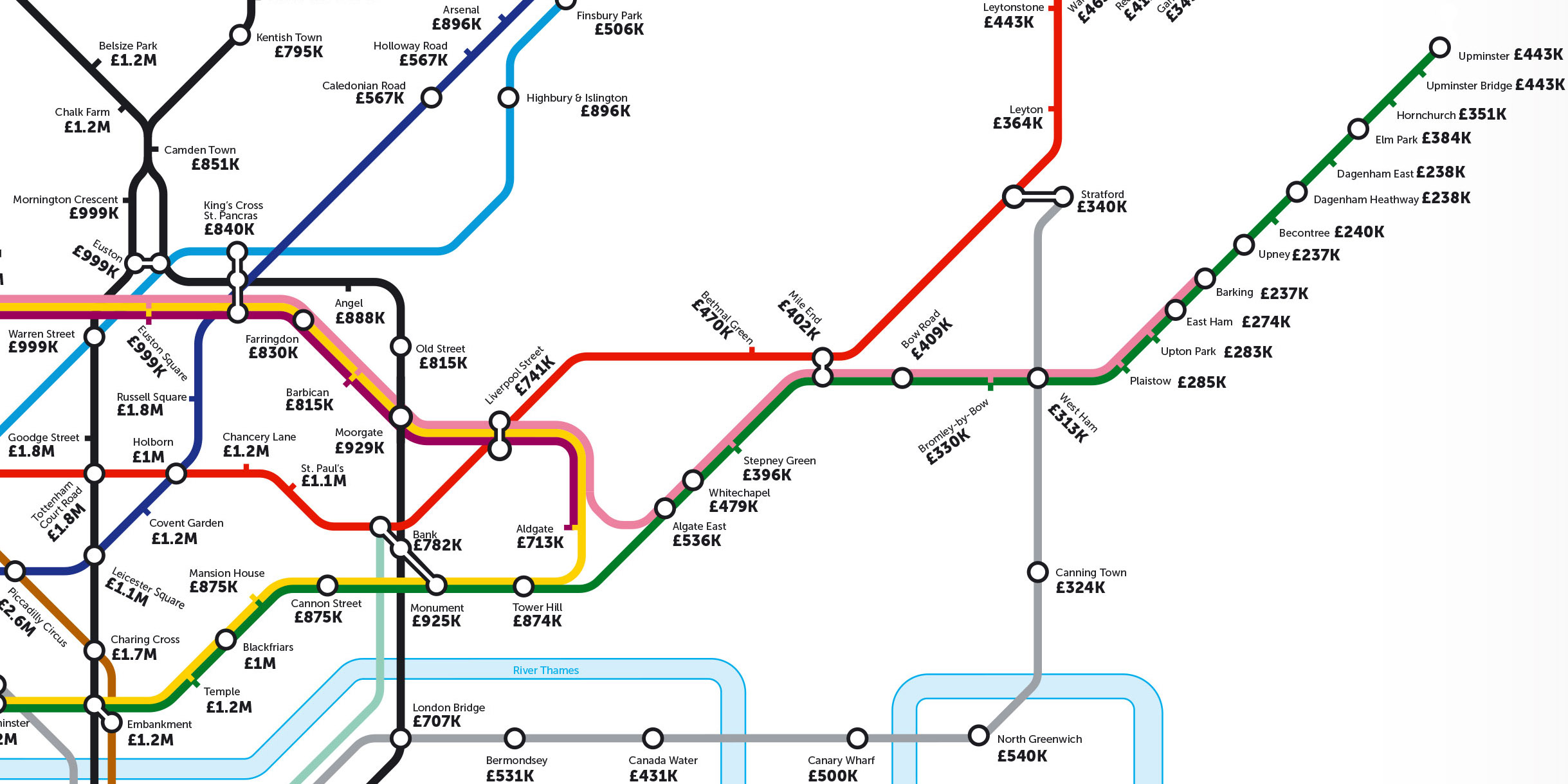 See the full map here

Russell Quirk, founder and chief executive of eMoov.co.uk, said:

'The Tube map is a fascinating way of breaking down the London landscape where property price is concerned.

'Despite the constant threat of strike action, a property close to a Tube stop, on a good line, remains one of the most sought after pieces of property in the capital.

'Close proximity to a Tube stop will always act as an additional selling point for sellers and in most cases, is justification for a higher asking price.

'It's well worth doing your homework when buying in London, because as this research shows, sacrificing a few extra minutes with a longer commute can result in a considerable reduction in the price you will pay for a property.'

If you're a renter, take a look at this similar map created by webiste Thrillist.

Ten cheapest Tube stops:

Barking (zone 4) £237K

Upney (zone 4) £237K

Dagenham Heathway (zone 5) £238K

Dagenham East (zone 5) £238K

Becontree (zone 5) £240K

East Ham (zone 3) £274K

Upton Park (zone 3) £283K

Plaistow (zone 3) £285K

Grange Hill (zone 4) £290K

Hatton Cross (zone 5) £292K

COMMUTER TOWNS

And if you can't afford London - or would just prefer to not live in the Big Smoke - consider a commuter town.

A new online tool from Totally Money allows you to explore the best London commuter hotspots via an interactive map.

You can personalise the map to reflect all or some of these criteria: the maximum time you're willing to commute, the amount of disposable income you have, how much you're prepared to spend on travel and the value of property you are interested in.

For example, if you input that the max property price you can consider as £312,773, the map looks like this: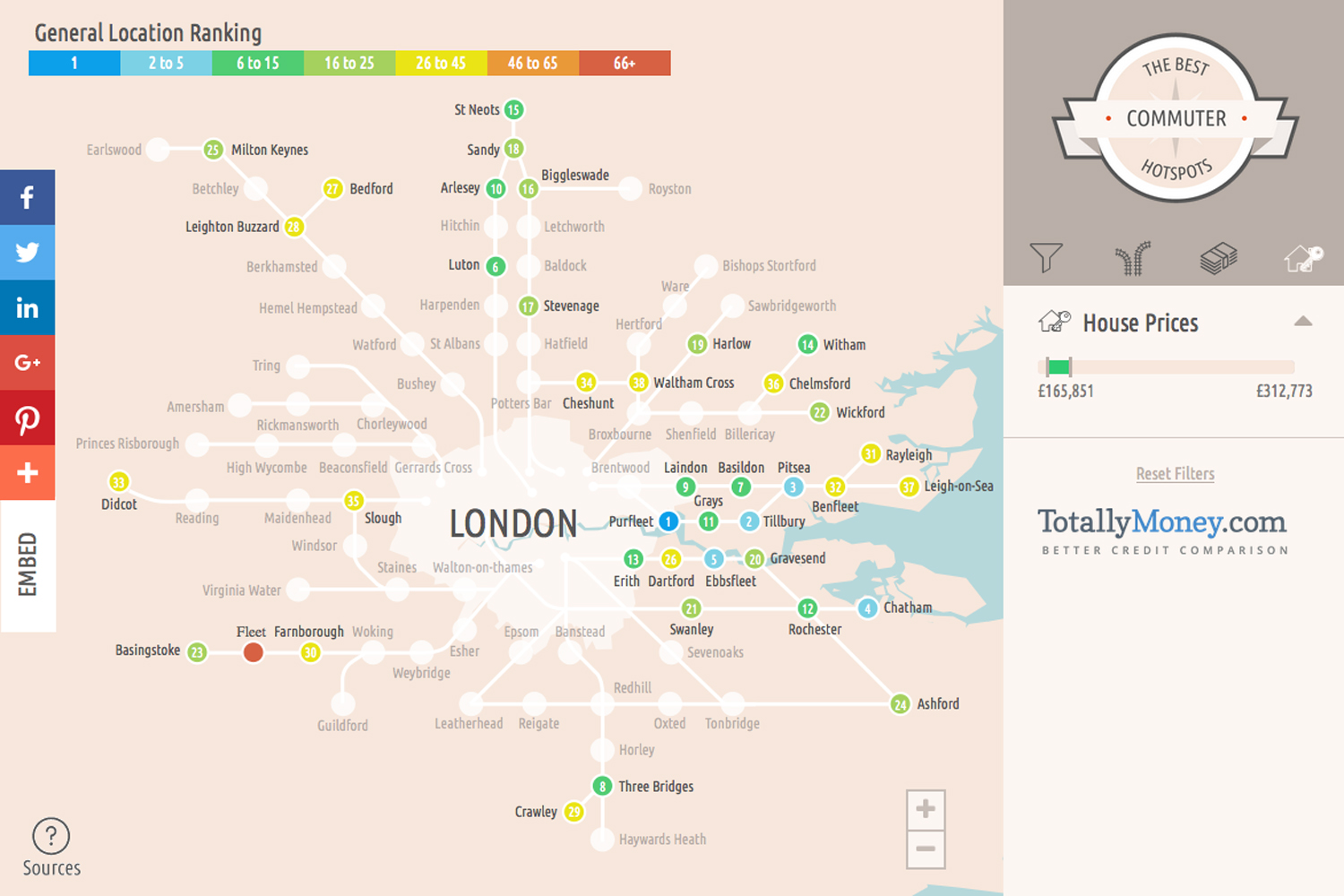 Image credit: totallymoney.com