Carpool Karaoke is fast becoming one of the highlights of our week, and the latest instalment sees Disney star turned pop icon Selena Gomez taking to the passenger seat. That, plus First Lady Michelle Obama has confirmed via her new Snapchat account, that she too will be belting up and belting out her favourite hits in James Cordon's car.
Michelle shared the below pics to her new Snapchat following, giving no clues away as to exactly which songs she's picked to take on.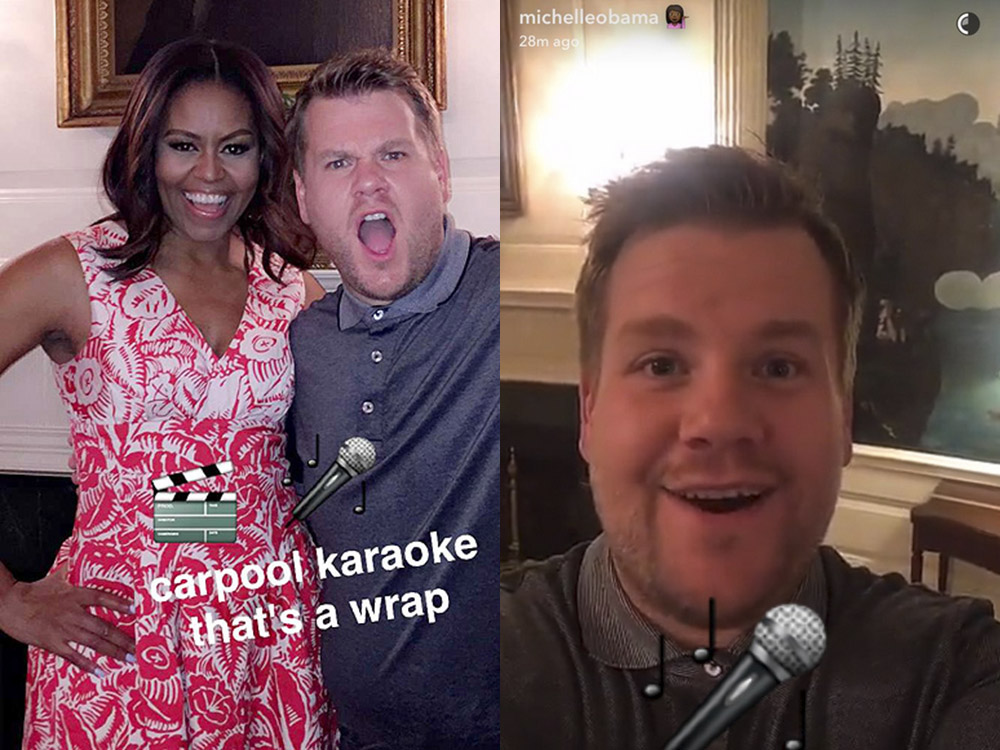 James Corden and
Late Late Show
executive producer Ben Winston are said to be shopping out the carpool concept to TV stations - and according to reports, it's already garnering massive interest. Did someone say massive bidding war?
While James won't be hosting the show himself (what, is he really busy or something?), he will be heavily involved as executive producer and likely to make an appearance on the show. Apparently a network and a host will be announced very soon.
Giving Carpool Karaoke its very own show makes perfect sense, since kicking off the videos have become The Late Late Show's biggest viral success with 412million views on YouTube, and Adele's January instalment roping in a massive 84 million views.
However, the show may already be up against a big rival, as network Spike, have already commissioned a show called Caroke Showdown, which will be hosted by The Office (US) star and comedian Craig Robinson.
Ohh car karaoke drama, who'd have thought it?


To celebrate Carpool Karaoke's success, let's take a look at our favourite car sharing, singing moments so far… (We challenge you not to sing along.)

Gwen Stefani
With special guests George Clooney and Julia Roberts...



Jennifer Lopez...



Adele...
Chris Martin...
Justin Bieber...
Mariah Carey...
One Direction...
Stick a fork in us, we're done.
Red Hot Chili Peppers
When James Cordon invited the Red Hot Chili Peppers into his car, their soft rock vibes took us back to the early noughties. Cordon and the gang sang their way through their impressive repertoire of the Chilli Pepper's hits that you'll definitely remember the words to, including "Can't Stop," "Californication," "The Zephyr Song", getting hot and deciding to strip off, though drummer Chad Smith and guitarist Josh Klinghoffer did remain fully clothed throughout. Not content to keep their antics to the car, at one point, Corden pulled over so he and frontman Anthony Kiedis could partake in some manly wrestling on a lawn.
Chewbacca Mom

This week's episode follows on from the Carpool karaoke special where James met viral sensation Candace Payne, AKA Chewbacca Mom.