As much as we love Titanic, the heartbreaking scene where Rose and Jack have to part forever just breaks our hearts.

Not only because a new couple, who are so in love, are cruelly torn apart, or because Jack sacrificed his life for Rose – but because they both definitely could have survived, in our humble opinion.

And now it seems the lady behind Rose agrees.

Kate Winslet appeared on yesterday's Jimmy Kimmel Live!, talking about how it felt to spend time with her Titanic co-star Leonardo after all these years on the awards circuit and various red carpets.

Kate is up for an Oscar for her role in Steve Jobs, while Leonardo DiCaprio is hailed to finally win an Academy Award for his role in The Revenant.

The pair always look so excited to see each other – and Kate has even said she thinks Leo will bag the big prize this year.

'People are always so excited to see Leo and myself in the same space, which at the end of the day, that's so lovely,' she said. 'It's been 20 years and people still get such a kick out of it. It's really quite endearing.'

But when Jimmy pointed out that Rose 'let [Jack] freeze to death in the water', Kate actually agreed with him.

'I agree,' she admitted. 'I think he could have actually fit on that bit of door.'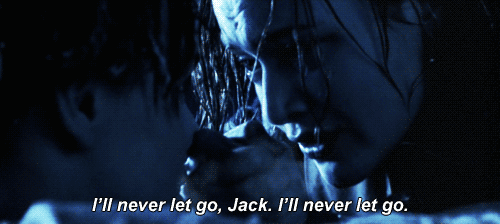 Source: giphy
Couldn't you mention that to the screenwriter at the time, Kate? Then we wouldn't have wept so many tears – and imagine the possibilities if Jack had lived?
Titanic 2
? Dawson-DeWitt-Bukater children? The Heart of the Ocean not being at the bottom of the sea?
Kate also talked about how she really, really wants to win another Academy Award.
'It's such a strange and wonderful time, awards season. I suddenly realized recently that we find ourselves in this incredible situation, to have entered a competition that we did not choose to enter. And then, you find yourself really wanting to win,' she told Jimmy.
'I'm done saying it's great to be nominated. It is, it really is, but it's really great to win. I'm so shameless.'
Best of luck to both Kate and Leo – but we will never be able to stop thinking 'what if?' of that tragic
Titanic
scene.