This time last week, we reached peak Lip Sync Battle. Channing Tatum blew the competition out of the water with his set during the January 7th premiere, when he brought out none other than Queen Bey herself – Beyoncé - for his battle. And now we know exactly HOW he did it...

According to The Hollywood Reporter, Beyoncé only committed to the bit the night before - and didn't rehearse!

Executive producer, Casey Patterson admitted 'Channing, during one of his rehearsals, sent an iPhone video message to Beyoncé about two days before the show.' While Casey doesn't have a clue what Channing said to convince Beyoncé to show up, it looks like even Channing didn't know Beyoncé would help out. 'That moment on air, that's the first time they ever met. He's dressed as her, dancing and singing to her song. We were just hoping he would keep dancing.'

And boy did he. Done up in an outfit similar to Bey's wardrobe in the music video, Channing definitely knew he had it in the bag as he danced alongside the superstar. With Channing facing off against his wife Jenna Dewan-Tatum, Channing worked his version girl power anthem, Who Run The World (Girls) alongside Queen Bey herself.



As you can imagine, the audience went pretty wild at the arrival of Channing's special guest and indeed Jenna's reaction says it all.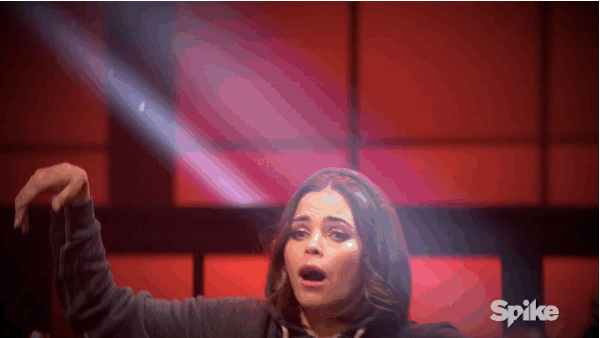 Source: Spike via Buzzfeed.com
Not one to be upstaged however, Jenna gave as good as she got on the Lip Sync Battle stage. Opening up with a sexy dance routine to Paula Abdul's
Cold-Hearted Snake
– the couple did meet on the set of dance movie Step Up, after all – the former American Idol judge even joined in, giving a powerhouse of a performance.
Channing hit back with a rendition of a Frozen's famous
Let It Go
, blonde braided wig and blue gown included, while Jenna's second battle wiped the floor with her husband by, wait for it, imitating her husband in his role as Magic Mike. Sporting fake, drawn-on abs (brilliant) Jenna gave her lap-dancing hubby a taste of his own medicine as she ripped off his routine from the first movie – you know the one…