Jennifer Lopez has spoken out for the first time about her controversial outfit choice on Britain's Got Talent earlier this week, revealing that producers of the show insisted she wear it.

The actress/singer caused a surge in complaints to the UK's broadcasting regulatory authority, Ofcom, when she performed a risqué routine on the TV talent show to promote her new single, Live It Up.

Dressed in a black sequined bodysuit, fishnet tights, over-the-knee boots and a fluffy jacket, J-Lo danced with a group of male backing dancers, at one point thrusting her crotch towards the cameras, that many viewers deemed too raunchy for the pre-watershed slot.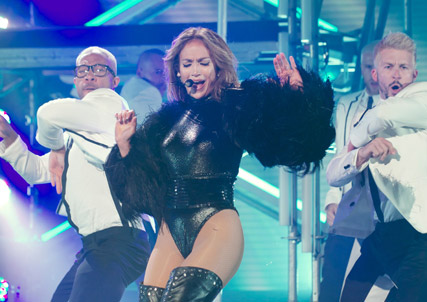 But now, Jennifer, who will appear at Gucci's Sound of Change Live concert this weekend, has spoken out for the first time about the furore surrounding the performance and has defended her outfit choice. Speaking on BBC Radio 1 during Scott Mills' show, she said: 'I think people are so much raunchier than I am. I feel like I'm so tame. We wore it at Billboard [Music Awards 2013] and Britain's Got Talent said they wanted exactly the same. So, I thought I'd wear the outfit in black.'

She added: 'No-one complained at Billboard. I think people just like to talk. It was a bodysuit. A lot of performers wear that these days. It is standard stage clothes. I'm not going to walk down the street like that!'

Media watchdog Ofcom also released a statement, that read: 'Ofcom can confirm that it has received complaints about Britain's Got Talent broadcast on Tuesday, which we are assessing but not currently investigating.'

Oh dear! What do you think? Was Jennifer's dance routine unsuitable for the family show? Tell us your thoughts in the comments box below!

JENNIFER LOPEZ JOINS CHIME FOR CHANGE CONCERT LINE-UP

JENNIFER LOPEZ'S LEG WORKOUT SECRETS REVEALED!

LATEST JENNIFER LOPEZ NEWS