The best curly hair products are out there - but it's a truth universally acknowledged that it's hard to find what works for your specific hair type. Plenty of us battle with the frizz on a daily basis in an attempt to smooth, straighten and eliminate our natural curl pattern, but we've got a few solutions...


Curly hair, afro hair and natural hair is very much having a moment right now. (Think Fleur East and Lupita Nyong'o as well as Burberry, Prada and Jasper Conran using models with natural afros on the catwalk recently).
If you love your curls (and we really hope you do) but sometimes find it unmanageable, these sugestions could just about change everything. From leave in conditioners to hair masques, shampoos and styling products we've got your curls completely covered with our best curly hair product recommendations. All that remains now is to make your decision as to just
how
you're going to restyle all that hair...
1
.
Macadamia Natural Oil Nourishing Leave In Cream
, £10
What do you need a leave in cream for we hear you ask? Well if your hair is prone to dryness, your routine definitely shouldn't be limited to just shampoo and conditioner, oh no - you need to keep your curls moisturised at all times. Luckily Macadamia Natural Oil have created a genius product to cater for the laziest of us curly girls, and their leave-in cream not only left our hair feeling incredibly soft and silky, but it also defined our curls and minimised frizz, meaning it works as a brilliant styling product, too. The cream also comes in a handy pump bottle to minimise wastage - although something tells us we're going to be scraping the last blob from the bottom until we can get our next fix.
2
.
Maria Nila Argan Oil,
£16.99
If you want a sleeker, smoother finish to your curls then this oil will sort you out and is suitable for both loose ringlets, and afro hair. With 100% vegan ingredients and no sulphates or parabens (which can contribute to breakage) Maria Nila will have your mane crying out for more after one use. Apply before using heat for extra protection, or as a leave-in treatment to keep your curls soft all day.
3
.
Shea Moisture Jamaican Black Castor Oil Strengthen & Restore Treatment Masque,
£12.99
Curly hair fanatics will have known about the Shea Moisture line from US hair blogs and sites over the past few years, and luckily for us, the extensive range of products suitable for coloured, afro, mixed and brittle hair is now available in Boots. Hurrah - because this is one of the best curly hair products we've used. Also known as a 'deep conditioner' the Shea Moisture hair masques can be incorporated into your weekly wash routine after shampooing and conditioning your hair as normal. Leave on for 5-20 minutes and then follow-up with a leave-in product or oil, and you'll be blessed with the finest curl pattern of your life. (FYI: Shea Moisture also do a fantastic leave-in conditioner, and when we combined the two, our hair was super-soft for days).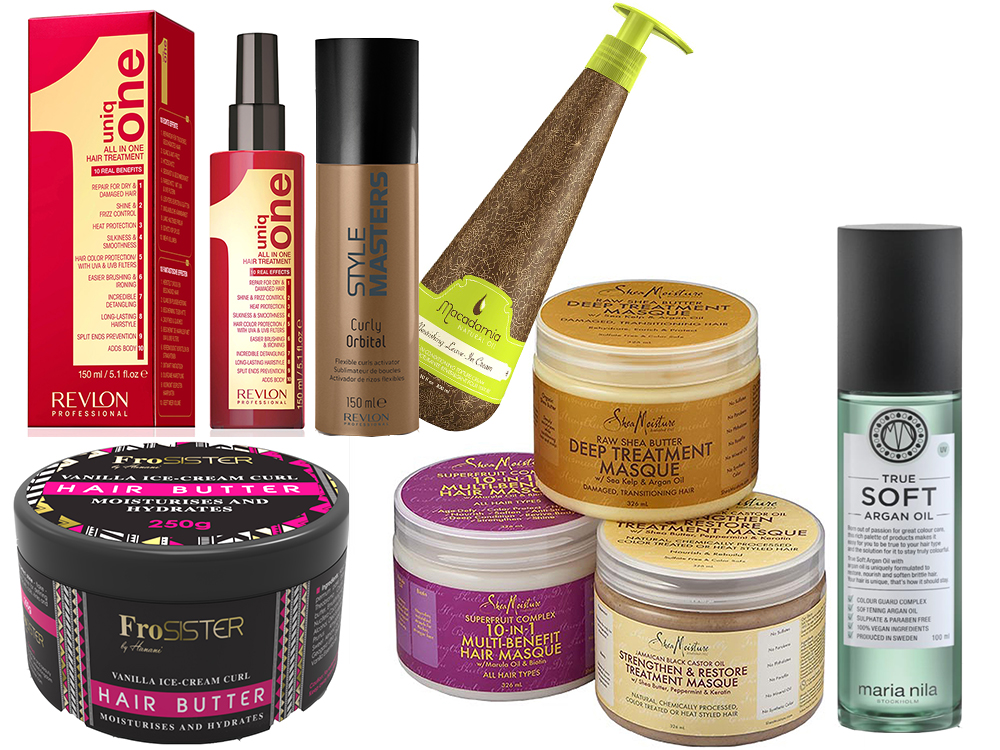 Fro Sister was created when British founder Hanani couldn't find chemical-free products for her daughter's hair. The range uses natural, plant based ingredients for ethnic and mixed hair without animal testing and has been created specifically to encourage growth and hair strength in afro and curly hair. We
loved
this creamy Hair Butter made with real shea butter, which managed to keep moisture locked into our hair for more than two days when we tried it out. And we're also big fans of how this product is suitable to use as a styling cream and detangler as it provides a frizz-free curl in the day, and when washing it off, gives great slip - meaning that combing our curls was actually possible. (Result).
5.
Revlon Uniq One
£14.95
This spray promises to repair dry hair, add volume, prevent split ends, add smoothness and silkiness, provide shine and frizz control and a lot more besides. And although that's a lot of promises for one little bottle, we can safely attest that this stuff is the absolute bomb and is one of the best curly hair products we've ever come accross. Just a couple of spritz's and we became blessed with the head of hair we'd always longed for - i.e. we could actually run our fingers through our curls, which is no mean feat as many of you probably know... We also loved how the product gave us a mega-volume-look when we combined it with the Style Masters Curly Orbital, and we could have sworn our split ends have improved a bit too...
6.
Revlon Style Masters Curly Orbital

When looking for a styling product, there's a lot to consider - is it going to give us a crispy hold? And will it make our shinkage worse? The shrinkage is very real. Luckily Revlon's made a cream to create the curls of our dreams and when we applied this to wet hair, the medium-hold product defined our hair without making making it look like it stayed wet all day, which we hate. In fact, as our mane dried, our curls became bigger and bouncier without blowing up into full-on frizz. A hero product in our book, we'll deffs be buying this one again.
7. Living Proof Curl Detangling Rinse, $26
This isn't a conditioner or a co-wash or anything like that but it really could completely makeover your curls. You can't buy it in the shops in the UK yet but with the power of online you can track it down from a US supplier – seriously, it's worth it. Curly hair tends to be drier that its straighter counterpart so the nourishing lipids in this product will restore lost hydration. It also – as the name implies – makes light work of knots so you're left with nothing but perfectly formed curls. Apply the rinse to wet hair, from roots to tips, and wash out immediately. Job done.
8. Bumble and bumble Curl Conscious Defining Cream, £23.50
A touch of this through damp hair before drying and your curls will be perfectly defined and healthy looking. It's a favourite.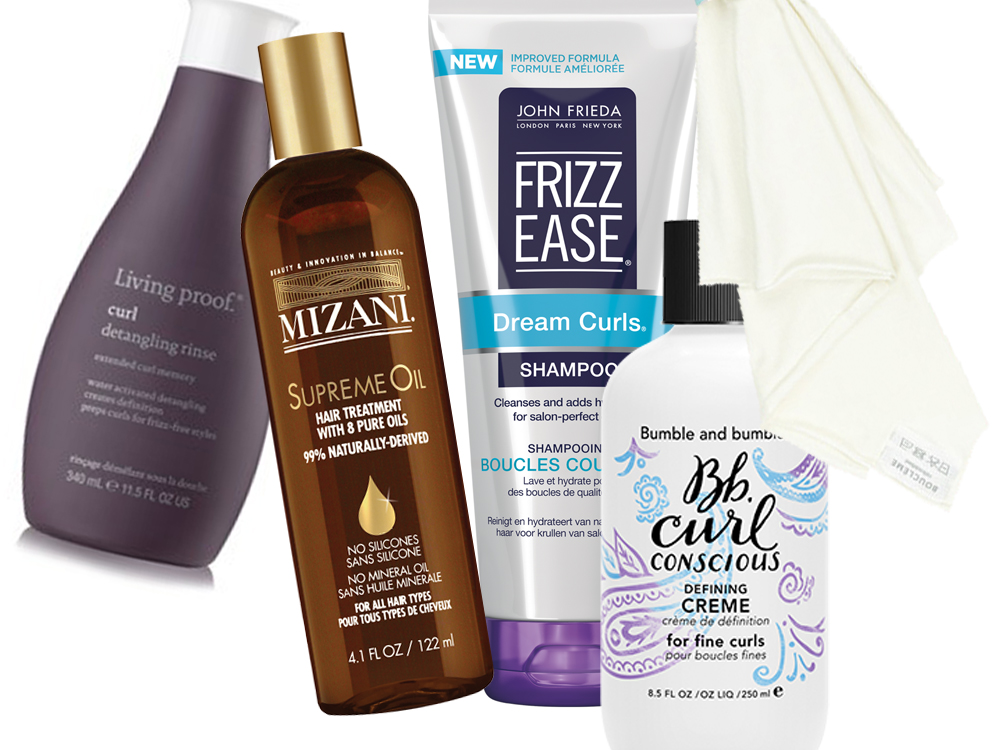 9. Boucléme Curl Towel, £19
Having lived with curls you're probably aware that if you have any chance of them behaving well they have to be treated nicely. Rough drying them with any old towel is likely just to rough up the hair's cuticles and create a halo of frizz. Boucléme's towel is made of 46% organic cotton, 46% bamboo and 8% elastin. It's like wrapping your curls in a layer of silk. Expect de-frizzed curls from hereon in.
10. Mizani Supreme Oil, £13.35
Oils are a great idea for curly hair. With it's spirals, hair oil travels slowly down the hair shaft, moisturising and conditioning as it goes. Mizani Supreme Oil, is one of our favourites. It contains eight varieties of oil that do magical things to your hair and you can apply it to damp or dry hair. Clever stuff.
11. John Frieda Dream Curls Shampoo, £5.89, and Conditioner, £5.89.
We don't know how this clever duo do it but, with regular use, they hydrate and redefine curls. It uses a styling polymer to help shape your curls and it's colour-safe too so you don't have to worry about washing your colour down the drain. The result is frizz-free, defined and healthy looking.
Finding products that are suited to you (not your mum, best mate, or Jilly down the road) is so important. That's why we're slightly obsessed with Powder. Tell them a bit about your beauty self and they'll match you up with the products that will work best for you.