The latest trend in Instagram porn combines women and drugs, and it's gaining popularity...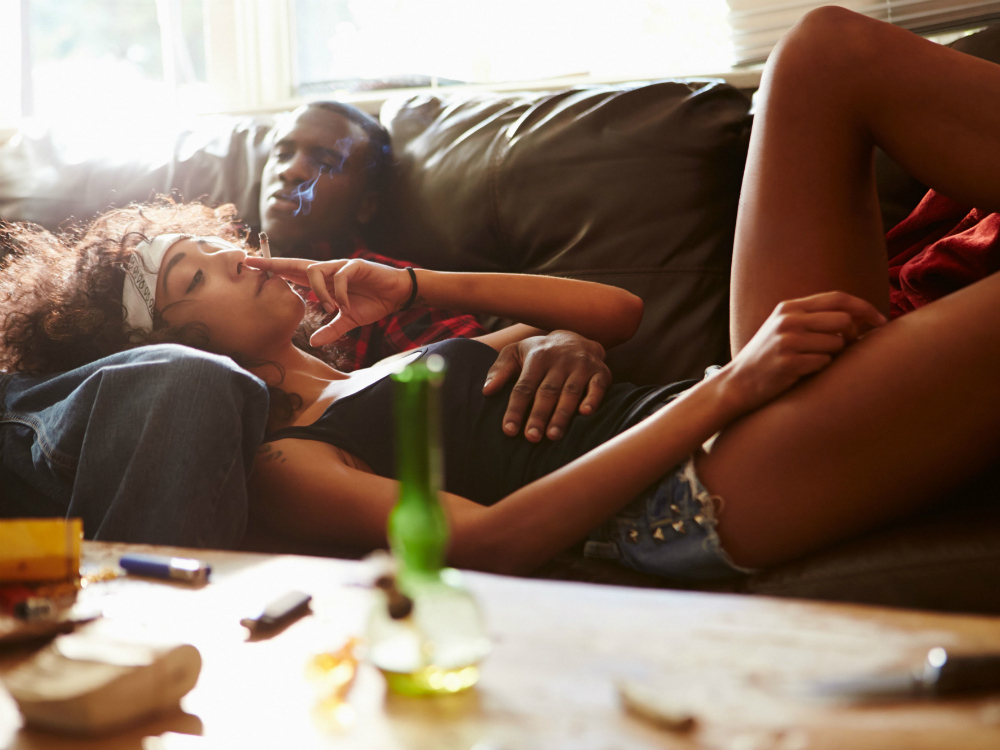 A young redheaded woman, wearing a black lace thong and a come-hither smile, lounges on a bed with two 
neat lines of white powder etched on her naked buttocks.
A teenage blonde winks sleepily, her painted nails suggestively gripping a bong as a Kim Kardashian lookalike reclines, doe-eyed, wearing a gold bikini and some lip gloss in a bathtub full of marijuana buds.
These images could be the contents of a teenage boy's wet dream and, in a sense, they are. Writ large across Instagram, the antics of the #instadrug girls are the 
last word in click bait.
Thousands of accounts, many of them run by young women, which glamorise and sexualise #snow #stonergirls and #benzies, are racking up male approval, and hundreds of thousands of 'likes', as they go.
The trend comes in the wake of #retodelpasesito, 
or the 'little pass challenge' (Spanish slang for snorting coke), a 2015 social media fad that encouraged young South and Central American women to post a picture 
of themselves on social media taking a bump of cocaine (which provoked a moral panic and crackdown by the Mexican government).
Kaylee Smith** posts under the Instagram handle 
_.drugs.inc._ with the tagline: 'benzos n blowjobs' 
(benzos being slang for Benzedrine, which is a pharmaceutical-grade amphetamine).
Recent postings show the 19-year-old in a miniskirt and low-cut top with a palmful of blue pills while lighting a bong.
Her account, Smith admits, is unabashedly designed to attract legions of male followers. 'You look 
at what's big on Instagram and it's sexy girls and it's dope,' she says matter-of-factly. 'I don't have anything to sell, but I kinda figured that this is the way to grow my brand, by riding hashtags like #stonergirls and #kushqueen [US slang for a sexually available girl who likes 
to hang with stoners] and picking 
up likes.'
The legality of the #instadrug trend however isn't entirely clear. Instagram, for now, tolerates the accounts as they don't strictly contravene its user guidelines 
unless, as a representative says, 
they, 'Show full nudity or sexual intercourse or offer sexual services or illegal or prescription drugs for sale.'
The British National Crime Agency's Cyber Crimes Unit told Marie Claire that policing social 
media accounts, except when 
these accounts are defamatory or threatening or linked to organised crime, falls out of their remit.
Dr Johanna Blakley of the University of Southern California studies social media and its gendered impacts. She claims that we shouldn't be at all surprised about the online prevalence of sexy images of drug-taking girls. 'Sex, drugs and 
rock 'n' roll have always gone hand in hand,' says Blakley. 'Social-media platforms are about what sells. 
Sadly, sexism also appears to sell.'
The fans of the #instadrug phenomenon are indubitably male, following their favourite girls with encouragements to 'post another 
pic of you smoking babe', or comments like, 'Yo! ain't nothing better than tits 'n' grass!'
Smith, who says that she is currently filming a '3am party video on xanies [Xanax]', says that she rejects the idea that there's anything sexist in her party-girl self-portrayals. 'It's who I am,' she says. 'So what's wrong with showing the world?'