Buy Of The Day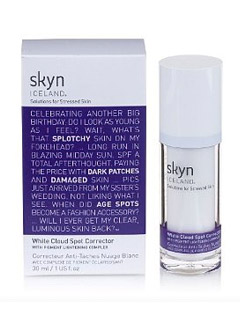 Skyn Iceland White Cloud Spot Corrector
£39.50
From late nights, to central heating, sun damage and anxiety, there's no end to the causes of stressed skin. Luckily, revolutionary new beauty brand Skyn Iceland is here to help.
The only skincare line designed specifically to treat the effects of stress on skin, there are cleansers moisturisers and eye creams for even the most delicate complexions.
Our favourite product in the range? White Cloud Spot Corrector. The magical cream melts into skin, at the same time tackling dark patches, age spots, acne scars and uneven skin tone.
Not only that, it leaves skin clean, clear and sparkling with health. We're addicted…
Review by Eleanor Young
click to buy