Buy Of The Day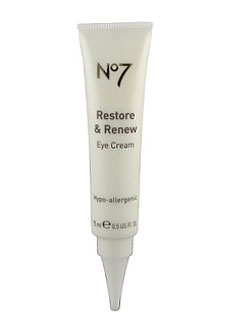 £18
If too many late nights are taking their toll, it may be time to invest in a proper pick-me-up to treat tired eyes with one of the best eye creams around.
For perfect peepers why not try No7's latest wonder-worker - Restore & Renew Eye Cream. The clever hypoallergenic formula de-puffs and banishes-dark shadows in an instant, delivering moisture to the delicate eye area.
Plus, the skin firming complex, coupled with extracts from the magical Persimmon Tree work to boost skin's vitality, for fresher, smoother looking eyes.
Review by Eleanor Young
click to buy